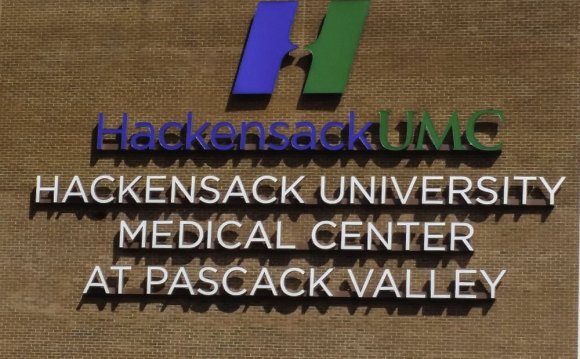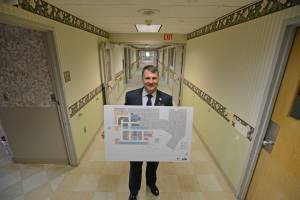 Nearly 18 months after a bankrupt Pascack Valley Hospital reopened as a modernized, all-single-room facility, its for-profit owners are embarking on a project to relocate and expand the emergency department.
VIOREL FLORESCU/STAFF PHOTOGRAPHER
Mark Sparta, CEO of HackensackUMC at Pascack Valley, with the plans for the hospital's new emergency department, which he called the "front door" of any hospital.
The planned $14 million renovation at HackensackUMC at Pascack Valley, as it is now known, would move the emergency room from the back of the hospital to the front, more than doubling its size and adding a new ambulance drop-off and an entrance for walk-ins, said the new acting CEO, Mark Sparta, who took over last week.
Mark Sparta, acting CEO of HackensackUMC at Pascack Valley, with plans. The hospital has not met patient projections. "Projections are just that, " he said. "It's very hard to predict."
It's a big investment in a 128-bed hospital whose liftoff has been slower than expected, with operating losses of nearly $20 million last year and an average census of just 37 patients a night.
But Robert C. Garrett, president of Hackensack University Medical Center and its parent hospital network, said those numbers do not reflect the potential for growth.
"Most start-up businesses start with an operating loss, " he said. "It's absolutely trending in the right direction."
HackensackUMC at Pascack Valley is a joint venture of LHP Hospital Group of Plano, Texas, the majority owner and manager, and Hackensack University Medical Center, which owns 35 percent. The Westwood hospital reopened after a long fight for state approval over the objections of The Valley Hospital in Ridgewood and Englewood Hospital and Medical Center. It had declared bankruptcy and closed in fall 2007.
Last year, in its first seven months of operation, Pascack admitted 1, 383 patients, less than one-third of the 4, 400 projected, according to state records. So far this year, it's admitted about 2, 500, Sparta said, compared with the 7, 402 projected.
"Projections are just that, " he said. "It's very hard to predict."
For opponents of the hospital's reopening, those numbers are proof that they were right all along that the hospital wasn't needed — yet comforting, too, because few patients have left them for the new facility.
"It hasn't had any impact on us — nothing we can notice, " Warren Geller, president of Englewood Hospital, said of Pascack's reopening. "Hackensack is busier than ever. Valley is busier than ever. Englewood is busier than ever.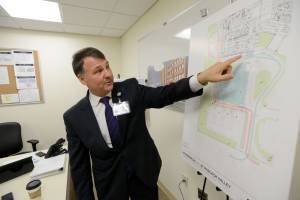 "If someone closes for a long time or struggles for a long time, " Geller added, "you don't go back." Rather than restoring unneeded in-patient beds in Westwood, the owners should have converted the old hospital to a medical mall, he said. "Maybe it still will be."
Garrett, however, said Pascack "has a bright and secure future."
He predicted the emergency department relocation and renovation would bolster performance since emergency care "is a huge part of any community hospital's success." Underscoring the importance of emergency department operations in drawing patients, hospitals around the area have invested in new or renovated facilities in recent years, including St. Joseph's Regional Medical Center in Paterson, Englewood, Holy Name Medical Center in Teaneck and Hackensack itself.
Sparta said the emergency room is especially important because "it is the front door" of any hospital, meaning that, for many patients and their families, it provides their first encounter with staff and facilities — and is the gateway for most admissions.
At Pascack, that will almost literally be true: The new walk-in entrance will be just to the left of the main hospital doors, facing Old Hook Road. The hospital plans a news conference on Monday to announce the project.
Admissions up
As for numbers, Sparta said that Pascack operated in the black in September for a second month, and that October is likely to be "as good or better." Admissions this year are averaging 250 a month, up 25 percent over last year, he said. Last week, the Joint Commission, a national accreditation body, certified the hospital's specialized programs in hip and knee replacement and stroke care.
The number of babies born at the hospital is up to 250 so far this year, compared with 82 last year, in part because of the recruitment of five staff obstetrician-gynecologists.
In fact, one patient delivered a second baby at Pascack last week — after delivering a baby in fall 2013 — a sure sign that she was satisfied, said Dr. Craig Weiner, her obstetrician. "She's the first person to deliver there twice, " he said. "She liked the experience. So when she got pregnant again right away, I asked her where she wanted to deliver, and she wanted to go back."
Weiner practices at Hackensack, Valley, Holy Name and Pascack Valley. "It's a beautiful facility, " he said, explaining that he chooses Pascack for low-risk births and for patients who appreciate a quieter environment. "If my patients are happy, I'm happy."
Source: www.northjersey.com
Share this Post